Savvy storage solutions for the home
It is said that cleanliness is next to godliness but keeping your home neat and tidy can become unmanageable without adequate storage solutions. With the excitement of choosing colours and finishes for your interiors, it's easy to forget about storage and organisation. However, clearing areas of clutter is not only aesthetically pleasing, it can also help reduce stress and increase efficiency.

Working with a small area need not be a hindrance for storage seekers. With clever designs that maintain the style of your room, there are more choices available than you might think.

It is important to be aware of all the options available when considering storage as this will ensure you choose something that's both practical and visually appealing.

To assist with the task of tidying up and maximising your space, we've asked the managing director and product designer at Tansel Stainless Steel Wireware, Tanya Selever, for some of her top storage tips that are sure to help take some of the work out of maintaining an impeccable household.
---
↓
Kitchen
With so many appliances, utensils, groceries and cleaning products, it's not hard to see why...

the kitchen can often be the first place where you begin to feel a pinch for space. Both form and functionality are integral to keep in mind during the initial planning stage. Leave no spot unturned — with some creativity and innovation, even the smallest of spaces can become effective storage areas.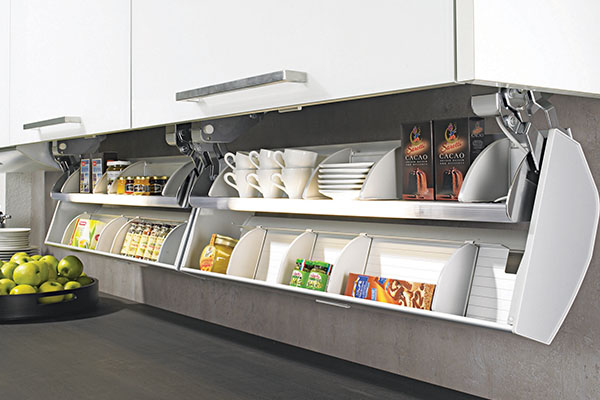 Luckily, there are many options available, from narrow cabinets to downward-opening wall units. With such a wide range of products on the market, it's important to choose high-quality fittings initially to avoid extra costs down the track.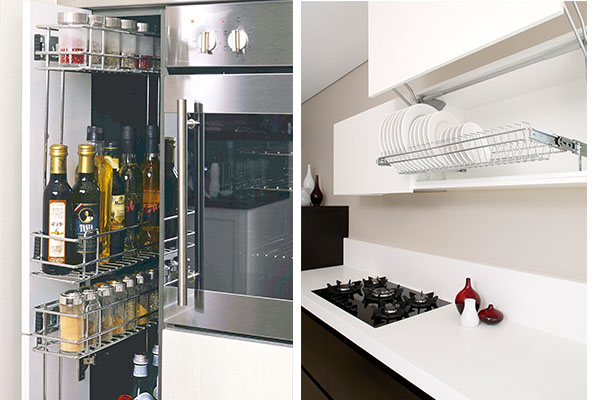 "When choosing slide-out storage products, consider the cost and complexity of the mechanism," advises Tanya. "Sometimes complex mechanisms are expensive and, in the long run, problematic. They may need adjustment or replacement. From my experience, simple systems that are high quality are the best and last the longest. But check warranties to avoid problems in the long run."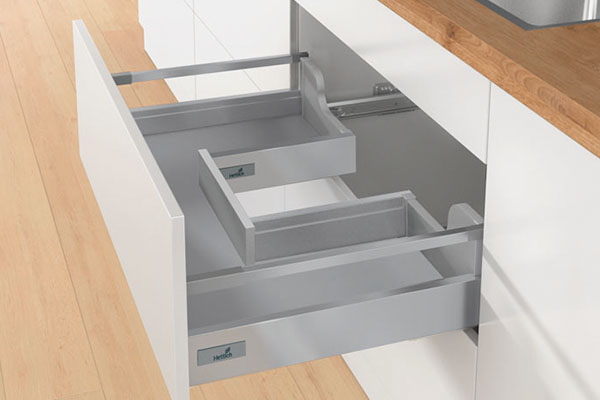 Cabinets aren't the only storage option in the kitchen with drawers quickly gaining popularity for their ease of access. Hettich's drawer system InnoTech Atira provides endless options for storage right at your fingertips.
---
↓
Bathroom
The bathroom is often the most challenging room to incorporate effective storage. Working with small spaces and design constraints, innovation and creativity are essential. With counter space, a rare commodity, wall shelves, such as the Cling glass shelf from Destination 300 are an ideal solution. Combine these with clever accessories such as IKEA's Godmorgon box to sort makeup or trinkets and your vanity top will remain clean and clear.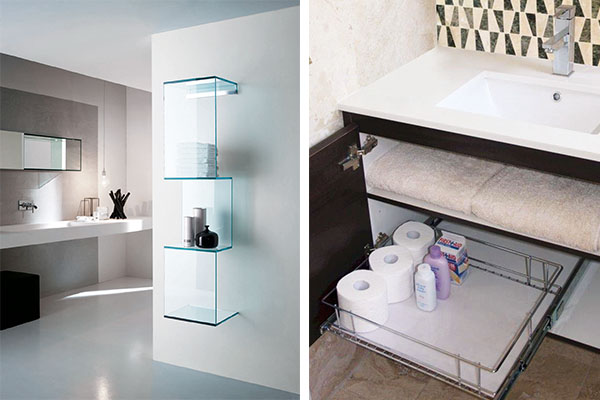 Another option is to consider choosing a vanity with built-in storage — the Kado Aspect range from Reece has compartments for organisation and comes with optional wall shelves. However, if your vanity options aren't flexible, consider customising what you have. "Many off-the-shelf vanity solutions do not give you slide-out storage options," says Tanya. "A bottom-mount basket will give you great access so there is no need to dig in the back of the cabinet." Tansel's bottom-mount baskets come in a range of sizes and are ideal for personalising your space.
---
↓
Laundry
Often a dumping ground for clothes and other miscellaneous items, to ensure your laundry remains neat and tidy, it's best to have adequate storage in place.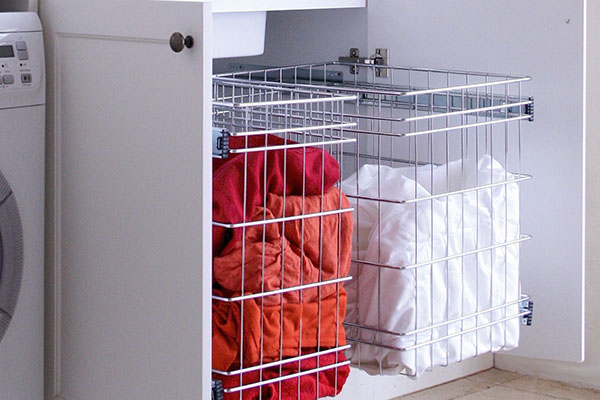 Tanya's advice is to carefully consider materials used as moisture is a big factor in the laundry area. "Choose stainless steel or plastics as regular chromed steel will be vulnerable to rust," she says. The easiest way to keep your dirty laundry out of sight is with built-in laundry baskets. With various options including tilt-out and slide-out mechanisms, it's simply a matter of choosing what fits your space.